Are you considering getting a divorce? Do you have questions about the legal, financial, family and personal issues that are involved? If so, then Second Saturday may be for you. Second Saturday is a divorce workshop taught by a family law attorney, a financial professional and a counselor. These professionals will provide you with knowledge and resources that you need to inform, prepare and protect you and your family.
SECOND SATURDAY DIVORCE WORKSHOP was designed to help you take the next step, no matter where you are in the process of untying the knot. This workshop will provide unbiased information to help you understand all of your options, deal with your emotions, and move forward with your life.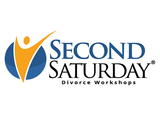 Explore the legal, financial, psychological and social issues of divorce.
Discover community resources available to help you.
Talk with other people experiencing similar life changes.
With the guidance of trained professionals, workshop participants gain greater understanding of the confusing and challenging divorce process.
The non-profit WIFE.org (the Women's Institute for Financial Education) started the Second Saturday Divorce Workshop program in 1989.  Second Saturday has helped thousands of individuals navigate the divorce process. It has also raised hundreds of thousands of dollars in scholarships and programs to help women become financially independent. For more information, visit www.SecondSaturday.com.
You can register for this event here: REGISTER